One of San Diego's most popular nail salons in the Labelle Nail Boutique on Poway Rd UNIT 107. This salon near me around Poway for the ever-increasing demand for beauty in a modern and busy lifestyle, a series of different types of nail salons are becoming more and more popular and rapidly evolving. Therefore, it is convenient and easy for customers of all kinds to find the best nail salons offered by experienced nail technicians, a variety of basic and extensive service packages, and a fresh environment for health and beauty care and treatment. There are numerous matching list service packages that you can conveniently select and experience here. You are absolutely confident in the safety and quality of the listing services that Labelle Nail Boutique currently offers. What more do you need to know about Labelle Nail Boutique in San Diego? What wonderful service do your health and cosmetology care and treatment are offered? In this article, let's examine and confirm the specific characteristics of each Labelle Nail Boutique's list of services. 
What Are Special Features Of Labelle Nail Boutique 
Labelle Nail Boutique is designed based on the classic and modern architectural style of Poway Rd UNIT 107 in San Diego. "All Natural, All Beautiful" is an impressive message that Label Nail Boutique always wants to offer and send when customers come here to participate in the beauty care and health improvement process. With dedication and enthusiasm, Labelle Nail Boutique is always aware of its unique mission to carefully and safely care for the health and beauty of all our customers with the pollution-free concentrated products included in certain service packages. 
Therefore, along with these unique features, you can be sure to get a valuable experience of the special and excellent packaging of the listing service implemented by professional and friendly technician staff in a sterilized fresh environment, delicious. You can enjoy a drink.
Labelle Nail Boutique is designed based on the classic and modern architectural style – the best nail salon in Poway Rd UNIT 107 in San Diego
The notable types of services I can get at Labelle Nail Boutique-nail salon near me
Manicure: 
Labelle Nail Boutique manicure is divided into concrete and effective service packages at a reasonable price, and we are always committed to delivering the most comfortable feeling and wonderful experience to all our customers. List of Services Included in Labelle Manicure: Classic, Spa Treatment, Ultimate Hand Treatment, CBD Cannicure Hand Treatment, Gel Manicure.
Classic Manicure
Classic manicure, which is differently understood as a traditional service, is the most popular and common type of service offered by many nail salons, including Labelle. With the classic manicure service at Labelle Nail Boutique, you have the opportunity to work on each step systematically and systematically while ensuring the safety and beauty care of your hands and nails. To ensure clean hygiene and dust removal, your hands will be soaked in a special liquid. In addition, nail clippers make your fingernails look cleaner and more even. The elimination of dead cuticles and dead skin cells with special equipment will sanitize your nails and hands. After removing unwanted cuticles, shape and polish your nails. In addition to this step, moisturizers and hot towels are used for better hand skincare and blood circulation massage. The final step in completing the entire process of classic nail polish is to choose your favorite color nail polish to enhance the unique charm of your hand and fingernails.
Spa Treatments
Spa treatments are one great way to enjoy the brand's exclusive beauty services alongside classic services. Although the spa treatment comprises a full course of classic manicures, the highlight of this service is to maximize the application of the Warm Shea Butter Mask, Hand and Nail Health, and Beauty. We focus on care. The combination of fine sugar crystals and coconut water makes the towel deeply hydrated. This step will make the skin on your hands soft and smooth. In addition, a spa manicure brings beauty and health benefits to your hands. 
The first benefit of a spa treatment is its excellent stress relief and relaxation therapy. In addition, spa treatments can help relieve aches and pains in the hands. A spa treatment with a special moisturizer will make your hands more radiant. Another interesting benefit is that the spa treatment ends with refreshing steam on a wet towel, leaving you feeling happier and more relaxed at the end of the hand massage.
Labelle Nail Salon offers a variety of manicure services at an affordable price and expert nail specialists
Ultimate Hand Treatment
The above-advised programs of offerings will make you extra assured with the exciting stories approximately your personal appealing splendor and fitness of hand skin. However, you may personal the appropriate and luxurious splendor in your arms while you experience a Paraffin remedy for deep hydration. This sort of hand care is protected in Ultimate Hand Treatment. With the assistance of the unique and large therapy, your blood circulate might be progressed and elevated in addition to your muscle around your arms being genuinely loosened up and comfortable.
CBD Cannicure Hand Treatment:
With the mixture of the traditional manicure, CBD Cannicure Hand Treatment is a renovated and methodical carrier to your palms. CBD or Cannabidiol is a herbal compound originated from the hashish plant, used for CBD oil. There are some portions of proof and the observed files confirmed that CBD oil can convey a whole lot of blessings for pores and skin kinds in addition to pores and skin fitness improvement. CBD is extracted from numerous elements of the Cannabis Sativa plant through heating and nicely mixed with a few types of oil, such as coconut oil or hemp for CBD oil creation. CBD oil or a chain of splendor merchandise that includes CBD chemicals to use to the skincare and answer for pores and skin problems. 
Gel manicure 
Like classic manicure, gel manicure is one of the most common services for the durability and beauty of your hand and fingernails. Most of the steps included in gel manicure are the same as classic, including nail clipping, nail filing, nail shaping, and cuticle intensive care. The final finishing step is also gel nail polish. First, if you choose Gel Nail Service at Labelle, you can easily contact the reception staff to make an appointment and have the freedom to choose your nail art or gel nail polish.
Pedicure
Classic pedicure is a familiar service and is the perfect choice at a price that corresponds to a thorough and basic treatment of the feet and soles. The first step in this service is to soak your feet in pure essential oils, trim the excess soles, and clean and disinfect them before removing dead cuticles. The next step is to shape and polish your nails to create an attractive look. With a moisturizing aromatherapy massage, you can feel truly relaxed.
Spa Treatment
The steps of pedicure spa treatment are also included in the classic, based on the basic steps of soaking the foot, conditioning the nails, filing, shaping, buffing, and color lacquer. Therefore, you can enjoy the whole process of a basic pedicure treatment, but it will be even more special with a combination of citrus sugar scrubs to remove the skin. The next step is to apply a deep moisturizing mask to perfect your feet and skin and naturally enhance your comfort.
Deluxe Pedicure Spa Treatment
Deluxe pedicure spa treatment steps are also included in the classics based on the basic steps of foot soaking, nail trimming, filing, shaping, buffing, and color painting. So you can enjoy the whole process of a simple pedicure treatment, but it's even more special when combined with a citrus sugar scrub to remove the skin. The next step is to apply a deeply moisturizing mask to perfect your feet and skin and improve your health naturally.
Ultimate Pedicure Treatment
The Ultimate Pedicure Treatment focuses not only on the care of the skin on the feet but also on the health of the muscles and blood circulation. Proper treatment with paraffin wax relieves muscle tension and significantly improves blood circulation in the legs.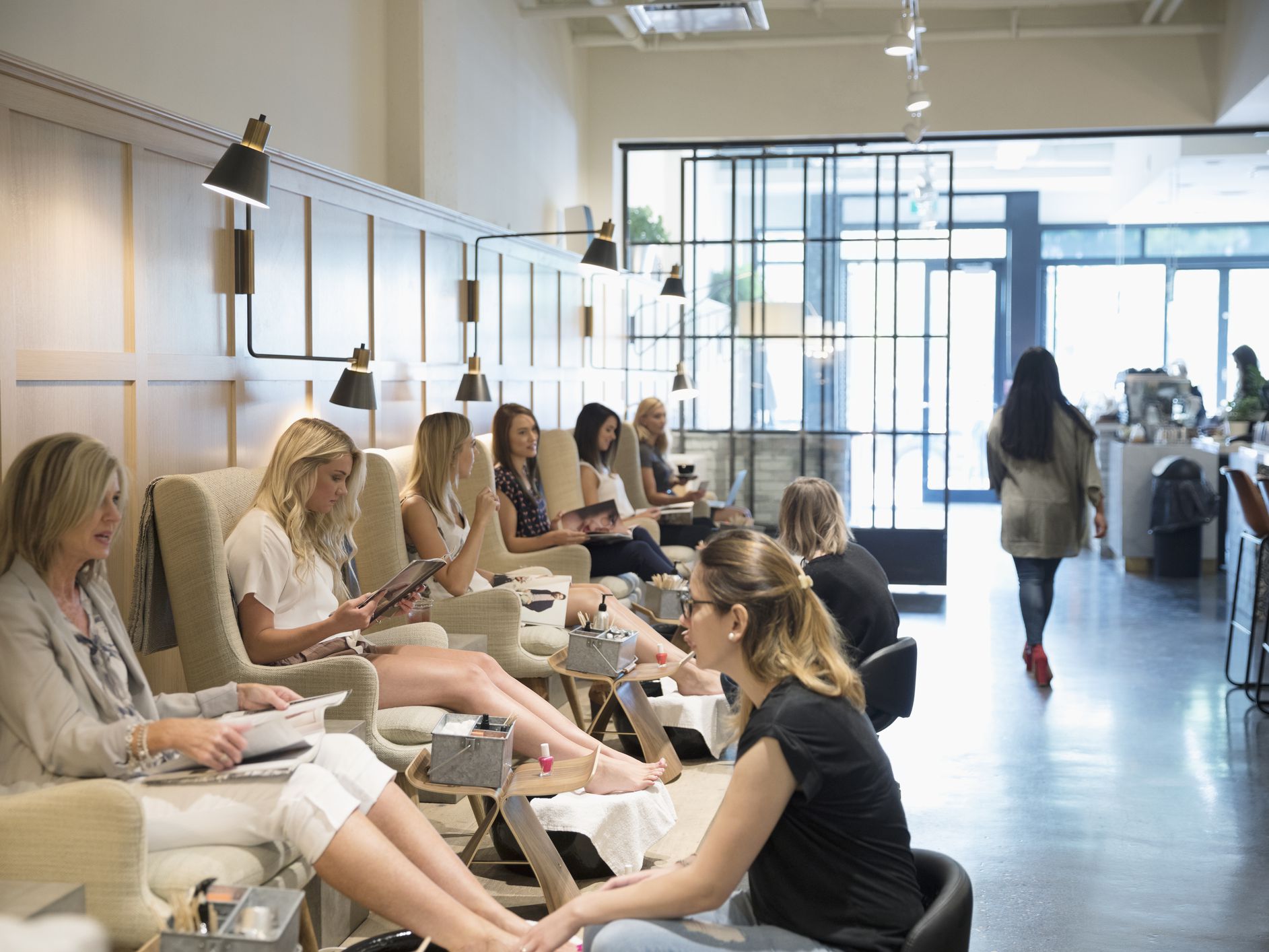 Various pedicure services will diversify your choice for the best nail salon near you in Poway
CBD Cannicure Pedicure Treatment 
This Pedicure category is beneficial with the application of CBD compound that is extracted from the cannabis plant used in the production of CBD oil. CBD oil has been studied for its amazing effects on skin health and beauty when combined with coconut oil and hemp.
Signature Labelle Coconut Milk & Honey Treatment
Getting a pedicure crowned with the goodness of coconut honey is super and convenient. Start via way of means of soaking your toes in unique nut oil and herbal coconut milk to make the private layers of your pores and skin softer and greater radiant. To save you enhance pores and skin aging and loose up pores for pores and skin cleansing, Labelle components greater herbal uncooked honey and coconut crystals to exfoliate.
Nail enhancement service: 
Careful and enthusiastic care and implementation by Labelle's team of technicians will give you invaluable experience in choosing a nail enhancement service. In addition, various service packages with special types of parts. The first element is a builder gel or a hard gel. Nail acrylic is an alternative to odorless gel. Use artificial tip extensions with hard gel to create strong, natural-looking hair.
Labelle offers a complete set of nail treatments, nail files, and shaping of your choice. This is one of the ideal and most effective ways to increase the durability and thickness of your nails. In addition, you can choose a natural overlay to enhance the natural strength of your nails. Applying a hard gel with natural nails, nail files and shapes is also part of this service.