French manicure is almost classic, but classic doesn't necessarily mean boring. There are many ways to update your appearance. Sure, white tips can keep you timeless, but if you're looking for something a little more fun, you can use rainbow ombre tips, glitter nail tips, or red varnish. And you don't even have to go to a nail boutique to get a perfect French Manicure. It's actually pretty easy at home. Here is a step-by-step guide on how to try your own French manicure with your own hands. In this article, we will also display the most outstanding Manicure French nails you should try to have an attractive look. What could be more classic or timeless than a French manicure? From the classic pink and white French Mani to the bold and bold French tip, we have prepared a variety of looks, so it's not just French, but a trendy, trendy look that suits everyone!
Definition of French Manicure
What is the definition of a French manicure?
French manicure is one of the most popular types of manicure, with the tips of the nails painted white and the base painted a soft pink. This color combination is considered the most classic way to create nails. French manicure can be done on natural nails, acrylic or artificial nails.
French nail polish paints the tip of the nail in a different color than the rest of the nail bed. Traditionally, your nail bed is painted with a clear nude or shade of pink, then the tips of your nails are painted with a thin, plain white varnish. Depending on the shape and length of the nail, the trip starts with a thin straight line at the free end or at the top of the nail wall and bends further to mimic the shape of a naturally rounded nail.
French Manicure is a surprisingly versatile and clean look, and it is evaluated that it does not go out of fashion. French manicure has been updated over time and may differ from the original pink and white version. This method helped revitalize French manicures after long complaints about lack of creativity. The good news is that in this article you will find all the information about this type of manicure.
For those who don't, a French manicure is to apply a clear or slightly pink varnish to most nails that have a fine white line at the tip. This is what all celebrities wear, and it's a great way to turn your dirty hands into a work of art!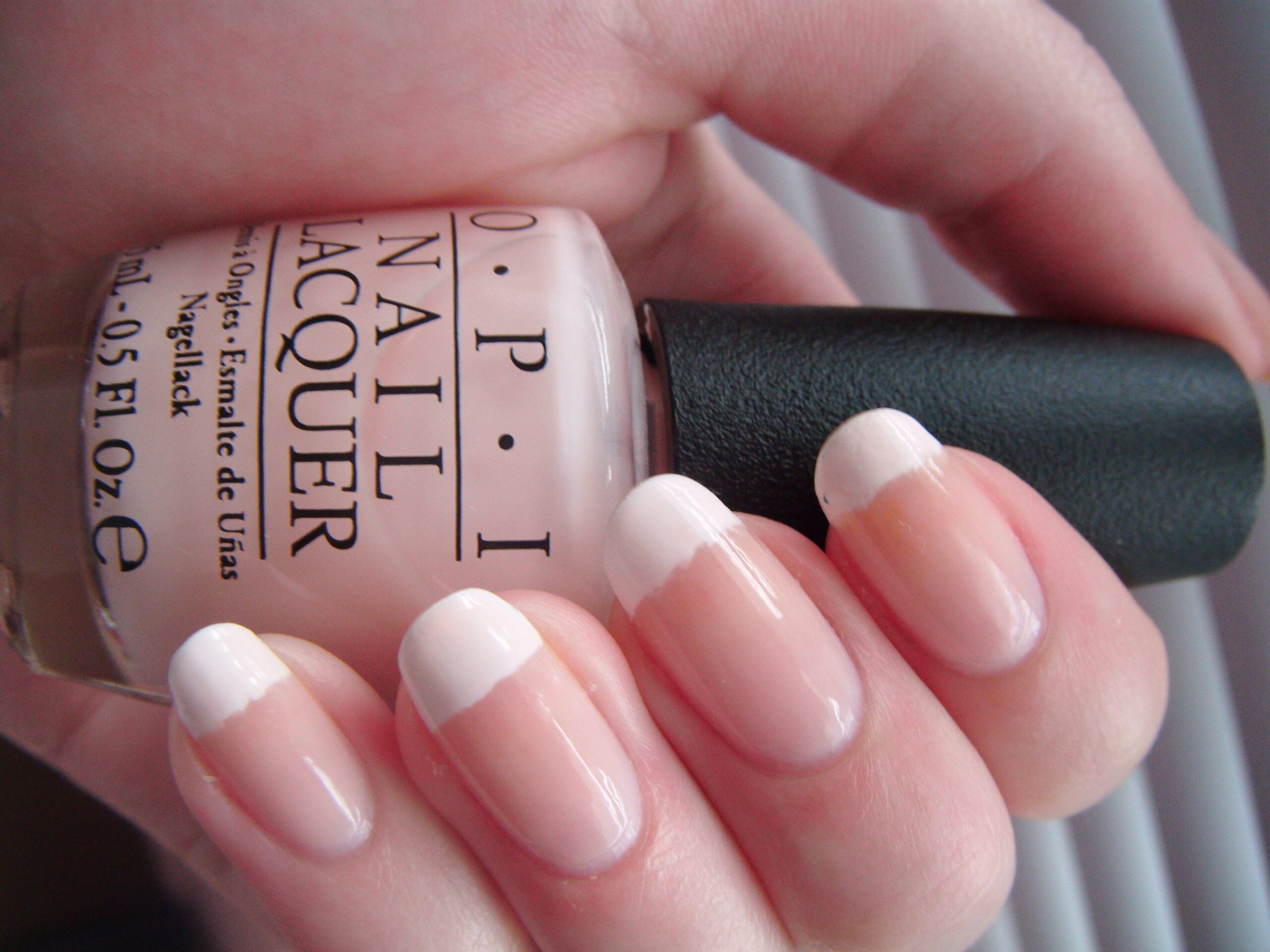 Classic French manicure has become a huge hit among fashionist who love to show off their French nail tips
Top Incredible Reasons For Getting French Manicure
French manicure has established itself as the perfect nail art option, from simple to complex. Its simple design creates a versatile style that goes well with any look.  French manicure looks elegant and elegant, reminiscent of classic manicures of the 50s and 60s, but at the same time clean and modern. It's minimalistic and doesn't look like you're trying too hard, but it has a sheen and vintage nostalgia. Also, this style makes your nails look really long. Choosing a French manicure is a reliable solution to such a tough problem. Pink or white tips seem to be a nail trend that doesn't change over the years, and it's still a style that women always look for in nail salons. If you want to look casual and natural, a French manicure is a really good choice.
A wonderful experience for relaxation
As with any manicure, a French manicure is a great way to relax. Sit back and let the therapist polish your nails to perfection. Feel the Nourishing Oil at your fingertips. Relax while the therapist applies the nail polish first and then applies the white tip.
An impressive look for longer nails
If you like biting your nails, a French manicure will help you break this habit. It gives an optical illusion of placing unblemished nails on thin fingers instead of cracked skin and cracked nail polish on short fingertips. The therapist's experience has shown that these fine white lines can also create the illusion of longer nails. So if blinking fingers all the time is inconvenient, then no more! Get ready to dazzle your eyes with French nail polish.
Perfect compatibility with clothes
It will be compatible with fashionable clothes. Whether you're wearing a body cloth or sportswear, a French manicure instantly will complete your style. Who would have known that the key to charm was in their own hands? Complete your nails with an all-black outfit for a futuristic look. Add a little black dress or dark skinny jeans to it. naught! Subdued colors brighten up your nails and help your manicure get proper attention.
Differences of French Manicure Categories
Classic French manicure enhances the natural look of nails. Here, the base of the nail is neutral, and the skin tone is reflected and the nail tip turns completely white as it grows. For a pristine French look, paint your nails with pure flesh or Pink Shadow, then paint the ends in a bright white shade.
However, this doesn't stop them from breaking stereotypes and getting out of the control of French design. Try the black tip or other bright, bold colors. You can also customize each manicure to create an ombre effect. You can even add nail art to the end only! Tortoiseshell French tip that goes well with the autumn look!  You can also do a crazy reverse French manicure and instead of painting the tip of the nail a different color, you can paint it a different color along the curves of the cuticle and along with the little cuffs. French Mani can be made with any nail product. Whether you use regular nail polish, poly gel, acrylic, or Mylee gel polish, there's a way to create French tips on any system.
French manicure needs elegant designs which will bring out a brighter look
Top trendy types of French Manicure nails
First, a designed French manicure is a classic nail art that has stood the test of time and fashion. This manicure has become a huge hit among fashionistas who love to show off their French nail tips. Its simple, beautiful, and versatile design allows you to transform it most conveniently according to the situation and mood. The famous French nail design has a reputation for its superb white fingertips, but you can take your French manicure design to the next level by adding a variety of curves to it.
French manicure ideas with color trade the traditional symmetrical round tips for a chic way to decorate your nails with unexpected pops of color. Paint your almond-shaped nails on the sides, or the tips, to pair them off with a summer wardrobe. This type is also known as funky French Manicure.
The next category is bejeweled white French Manicure. Nails with delicate, shiny white tips that start in a soft, glossy pale pink color. This unique nail has a square tip and is adorned with a small silver crystal ball. This is a subtle nail art design that can complement your working day or your weekend wardrobe changes.
This cute and delicate nail polish art design starts with a pink nail polish that brings your nails to life. You can make the tip a typical white color. Add a unique softness and romance by drawing a cute oriental pattern on a cotton nail. Maybe you will love this pretty French Manicure in pink. 
Get in the festivities and decorate your nails with a Christmas-themed French manicure. Light green tips convey the mint feel of the season, and shiny silver spots are reminiscent of snow. This is a magnificent French Manicure type for you to enjoy the wonderful Christmas celebration.
Your French manicure needs delicate lace designs, whether you're a bridesmaid or a guest. Create your own artistic style by applying an intricate openwork pattern in gold or white over a black or traditional nude base. It is called lacy Manicure French nails.
One another popular kinds of French Manicure nail is rainbow French Manicure nail.  Conquer the modern trend in French manicure design with these lovely shades that will turn your regular nails into an absolute head turner. Opt for a clear or pale pink base color so that the multiple colors easily stand out on the tip of each nail for a rainbow effect.
You can get the variety of French Manicure designs of  your choice and purpose
The networked French manicure design uses oval gold hairpins to create a luxurious accessory on the tip of the nail. You can cut the gold leaf to fit the shape of fingernails at the tip of your nail.
An inverted French manicure is simple yet eye-pleasing. Instead of nail tips, paint the cuticles a solid color and leave the tips alone or paint them a solid color. You can try as many color options as possible to enhance your nail play. The inverted French Manicure category now is trendy for many young people.
French manicure is suitable for both long and short nails. Be careful with your hands and keep them moist enough to keep your nails dry and brittle. Sophisticated or bold, this iterative style has been reinvented with a creative design that provides a clean, crisp, and refined finish to the ensemble.