A wedding day, everything you think about is an important day, a big event. Dresses, flowers, catering. How about your nails? A wedding is a special time for every girl and is perhaps the most important event in her life. You must be beautiful from head to toe. Wedding nails should be flashy and reflect natural beauty and splendor. There will also be plenty of wedding photos to show off your new engagement ring. So, keep reading for our necessary tips on how to get decent the bridal manicure before wedding party on website of Labelle Nail Boutique.
Manicure Definition. Why Is Manicure Good For You?
Manicure is cosmetic hand care. Cut, organize and shape your nails. Then pull back the cuticles to organize them and massage your hands. The final step is to paint the nails in the desired color.
Why is manicure good for you?
Manicure is great for improving the texture and health of your hands and making the skin of your hands look flawless. In addition to making the manicure look and feel good on your hands and nails, it often has the side effect of relaxation. The hands have pressure points that correspond to different parts of the body.
If you have hand injuries, pain, sprained joints or muscles, rashes, or broken skin, we recommend that you wait until they heal or tell your nail technician your problems before doing a manicure treatment.
A regular manicure can help reduce wrinkles on your hands, so your hands will look younger. After a certain age, your hands will start to wrinkle and you will eventually work hard to get rid of them. So, manicure can give your hands the youthful and healthy look that you have always dreamed of.
Manicure guarantees the health of your nails. Manicure cleanses nails and skin. This maintains the overall hygiene of the nails. Many housewives who do not have much time to take care of their nails and who have their nails done in a variety of exotic and beautiful colors can go to a good nail salon, Labelle Nail Boutique for instance.
The nail design ideas for a magnificent Manicure for a perfect wedding party 
The Essential Tips For The Bride To Get Manicure Before Her Wedding
Foremost, time flies when you're making bridal preparations. In fact, it might be moving too fast for your liking. You probably aren't the only one who's worried about time constraints. Don't panic, though. Here are a few tips to make sure your bridal manicure doesn't get pushed aside until the last minute.
Brides who don't have so much to do can choose to do their nails two or three days before the wedding. They'll still look fresh, and you'll show up to any other final arrangements waiting to be done looking great. You'd have also had time to get used to them.
However, if things are too busy for you, you can set up your manicure a day before your wedding. That way, there'll be less opportunity for your nails to get chipped by accident.
If you still worry that they could get scratched, then do them on the morning of your wedding. All you have to do is remember to include sufficient time for nail services in your wedding day schedule.
In addition, if you do it a few days before the wedding, you can choose gel nails. They last longer and are not prone to scratching or smearing. Acrylic is also a good idea.
Whatever idea you choose, try to keep your usual length. This can make it difficult to get things done at the wedding. If it's something you're going to do longer than usual, it's a good idea to do it the day before your wedding. This will help you get used to your new nails.
In terms of the manicure ideas for wedding theme, if you are having trouble choosing a colour, the best starting point is the colour scheme for your wedding. It would be good to have a wedding bouquet in mind as well. Choosing incompatible colours may not be a good idea. Overall, think about your personal style and choose a wedding manicure that complements and represents you.
Some suggestions for manicure nail ideas and designs will help the bride more attractive and beautiful.
The classic wedding white is one of the most fascinating manicure nail ideas to be applied for the bride at the wedding. A timeless classic white nail design is a manicure nail idea to get. When it comes to weddings, you can't go wrong with classic white nails. It goes well with any colour scheme and goes well with a white wedding dress, giving it an elegant and sophisticated look.
The charming and sparkle nails bring out an elegant look for the brides
The following manicure nail idea is the French mani design. French mani is gorgeous, refined and elegant. This is the case when using clear or fleshy varnish and covering the tips with white paint. You can stick to the traditional style or choose something completely different. This is a great finish that will accentuate your rings, bouquets and bridal outfits.
Who said you have to paint your nails for a wedding? If you use your nails without manicure every other day a week, you can do the same at the wedding. All you have to do is shape your nails and have them polished by a professional. You can also add a transparent gloss layer for extra shine. Therefore, the naked nail is also a great design for manicure nail ideas.
Many people think that nail art design for bride is too much for the wedding day. This is not exact.  You can still rock your beautiful nail art at your party. All you have to do is choose neutral colours and minimalist designs. Artwork can also be included in the selected colour. For a more traditional look, floral and leaf patterns can complement the dress without compromising elegance. This model goes well not only with thin dresses, but also with dresses with layers or movement. If your wedding is more casual, hand-painted nail designs with sequins, gems or rhinestones will look great. Consider adding accent nails to each arm or leg. This makes for a nice nail art design that complements the entire dress.
These nails are a great alternative for brides who do not like flesh. Extra pink shades look very beautiful. You can choose a lighter or deeper colour for this wedding nail. This is another classic wedding nail idea. It goes well with any colour scheme and looks great and timeless. You can create this look by choosing a bright pink, white, or nude nail polish. Decorate your wedding with metal nail polish. It will definitely stand out and look beautiful. With this idea in mind, it's usually best to choose a colour that matches the colour of your wedding ring. Glitter nail designs are gaining popularity with varnish. If you want something flashy and striking. Glitter is the perfect way to do this and can be used in a variety of ways to accentuate your personality and fun while maintaining style.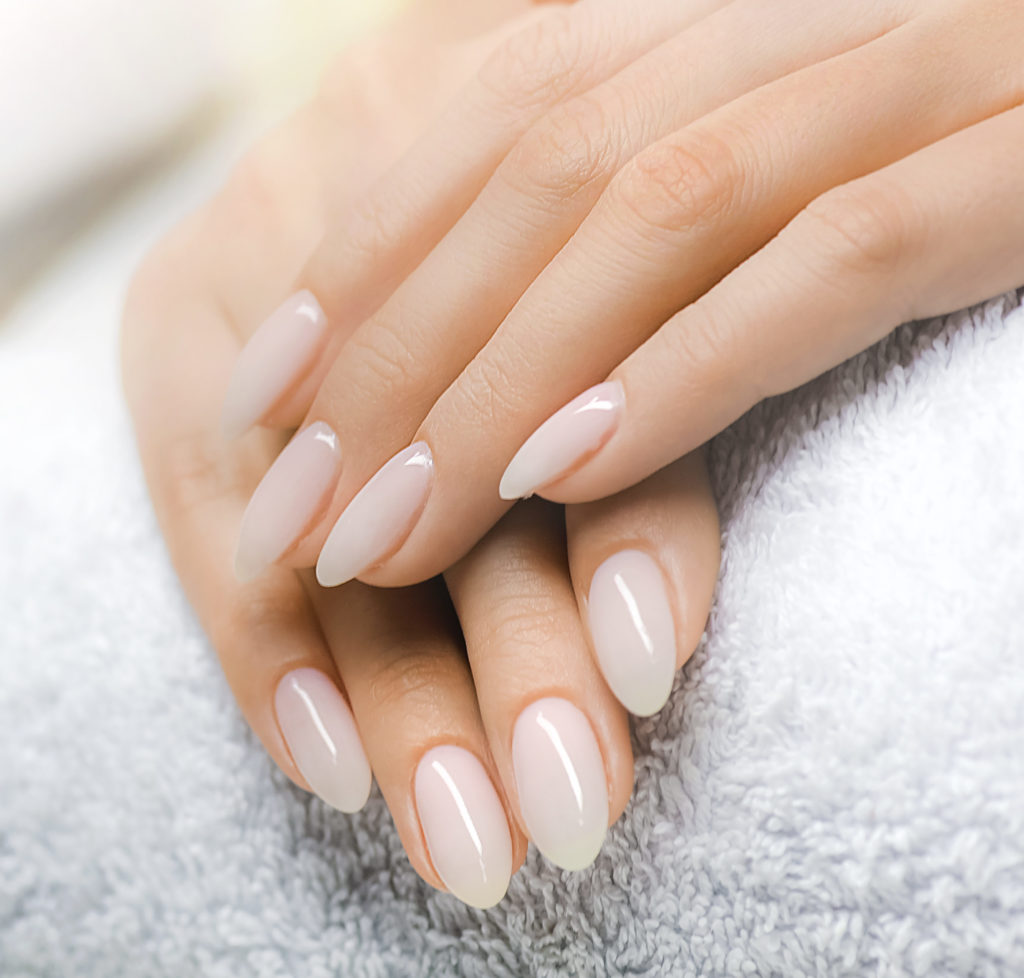 Some useful tips you should notice to get the most excellent Manicure before wedding day 
Some more useful tips for perfect manicure before wedding day
In the salon, they always ask about an oval, a square, or something in between. Zoya nail expert Naomi Gonzalez advises trimming your nails when the cuticle line is formed. For example, if the base of your nail is rounder, use an oval tip. For square cuticles, choose rectangular nails.
It's a good idea to go to the nail salon before the big day, but don't panic if it happens on the same day. The expert manicurists will trim the nails, the edges with fine sandpaper, attach the artificial nails to the tips with superglue. Let's them dry for 2 minutes, and applies the appropriate colour for the intermediate correction.
If your nails are damaged, Labelle Nail Boutique suggests soaking in acetone-free nail polish remover and smoothing the blemish. Then apply two thin coats only on the chips to avoid uneven nails. Dry your nails and apply a top coat. For consistency, feel free to apply another thin varnish to the rest of your nails.
To perfect your manicure, the professional manicurists at Labelle Nail Boutique will apply the colour polish using a premium base and top coat brushed along the edges of your fingernails. From the moment of your engagement to your anticipated honeymoon, all eyes will be drawn to the sparkling new rocks that underscore the importance of your personal experience.
To sum up, wedding nails are an important part of bridal fashion. So, make an appointment with a nail artist at Labelle Nail Boutique to get the greatest manicure before your wedding day. It makes for a girly weekend and can even go with the bridesmaids right before the wedding. Hope that the mentioned-above manicure nail ideas will bring the brides an attractive look in their wedding day. Any other great wedding manicure nail ideas or places to get wedding nails? Discuss your ideas with Labelle Nail Boutique, one of the top best nail salons that offers gel manicure, nail art and more in Poway, San Diego.