Manicures and pedicures are often seen as a way to pamper yourself, but they're not the only way. In addition to keeping your hands, feet, and nails gorgeous, they have long-term benefits for your overall health.
This article aims to show why manicures and pedicures are a must after a while… keep reading!
Why do you need a manicure?
A well-groomed manicure is like every housewife and businesswoman should have a business card. You can take care of your hands and nails yourself, but leaving the handles to a professional nail service is better.
Manicure is primarily a hygienic procedure. Clean your nails to prevent the growth of pathogens. If they get into the stomach, they can cause serious illness.
Clean nails and sensitive skin always reflect an aristocratic influence. Now ancestry doesn't matter, but clothes still greet us. A person of high social status would be more than willing to appear in public with untidy nails. Don't neglect your manicure if you want to make a good impression.
 For some professions, a manicure is a mandatory attribute. In addition to dress codes, some companies have beauty standards that require employees to take care of their nails. As a rule, this applies to clerical positions such as managers, accountants, etc. Service workers such as waiters, bartenders, masseuses, and managers also need manicures. With the help of manicures, you can express yourself and attract attention. For example, bright nails can represent a creative personality. Pastel nails – express a calm mood. If your activity is related to the stage or artistry,  a bright nail polish with rhinestones or a drawing will help you attract attention. Nail polish helps to complete and complement the look favorably. increase. Nails that match your dress and shoes accentuate your beauty and give you confidence in your charm. Why do you need a pedicure? We believe that a pedicure should never be neglected. It is important to keep your nails clean not only in summer but also in winter.
A pedicure is not only for beauty but also for health. For example, heel skin can become more irritated by sudden temperature changes and dry, warm air from heating systems. If you don't moisturize and soften your skin, it can cause cracks. Cracks can cause pain and infection.
In cold weather, feet can sweat from shoes that are too warm. Hygiene procedures can prevent fungal infections and eliminate unpleasant odors.
Like manicures, pedicures are a great addition to your summer look. The vivid nail color you can see from the sandals will appeal to you and the people around you.
Experts do not recommend cutting your own toenails. This can cause nails to grow into the skin. In this case, only a podiatrist can help. However, do not forget to trim the length of your nails. A pedicure is a great preventive measure against ingrown toenails. Another reason to polish your nails in a Moscow salon is the opportunity to pamper yourself, relax and escape from the worries of everyday life.
The importance of Manicure and Pedicure
Why should you get your nails done at a nail salon?
Nail and foot care at the salon includes many additional steps to ensure the beauty and health of your nail plates. Finally, you can cleanse, moisturize, massage and polish. Moreover, it is much easier to create an unusual and original design in the salon, taking into account your preferences. It is enough to explain to the master what result you will achieve.
 There are many techniques for obtaining a particular design. Professional craftsmen continue to advance and are able to complete intricate designs that would be impossible on their own.
 A quality manicure and pedicure is a well-groomed finish and proper care. Every step is very important to make your nails strong and beautiful. It is enough to choose the right procedure in the manicure salon. This will allow you to find a well-groomed look for nails in the desired color and design.
Importance of manicures and pedicures
 Hands and feet are the most exposed parts of the body that are exposed to dirt, germs, and harsh weather conditions on a daily basis, making them vulnerable to damage. This is where manicures and pedicures provide proper care and attention.
Manicures and pedicures exfoliate the skin and remove calluses from your feet.
Keep your nails clean and well-groomed to reduce the risk of fungal disease.
A simple at-home manicure can keep your nails from cracking and chipping. It also protects against dry cuticles, hangnails, and damaged skin. A massage performed between a manicure and a pedicure can help improve blood circulation and help minimize wrinkles on the hands over time.
 They are excellent stress relievers/busters.
 Now you know all the benefits of manicures and pedicures. The good news is that you don't have to rush to the salon all the time to reap the benefits. If you want to save money or time by doing the work yourself, here are the tools you need, how to use them, and in between. Make your life a little easier with our comprehensive guide to everything.
Necessary manicure and pedicure procedures and accessories
 Treat your hands and feet with a salon-like treatment at home. All you need are these basic supplies, which you can easily find online or at your local drugstore. Once you've found all these tools, you can move on to your manicure and pedicure session.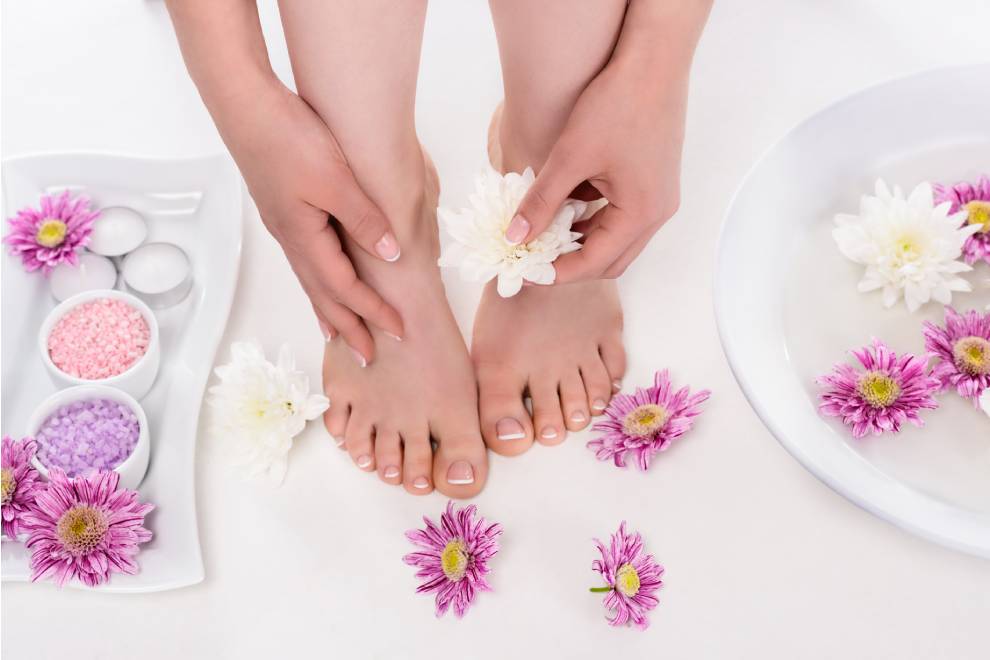 Getting Pedicure and Manicure can give you various benefits of health and beauty
7 step procedure for manicure and pedicure
Step 1 – Start cleaning your nails
Clean nails are more important than anything else. If you have nail polish on your nails, use an acetone-free nail polish remover to remove it. You can use cheap removers from discount stores.
Step 2 – Shape your nails
File and shape your nails. Well-shaped nails make your fingers stand out. There are many ways, but think about what you do every day. For example, long, pointed nails may not be suitable for people who work by hand, so choose short, blunt ends with gently rounded corners. When filing, move from the outer corner to the inner corner to avoid sawing the top of the nail. Once the form is correct, inspect all 10 to ensure they are as similar as possible. This can give your manicure a consistent, more professional look.
Step 3 – Cuticle Care Technique
 Any professional manicurist can take care of your cuticles, but you can do this in a number of ways using bath or cabin solvents with mild soaps on your fingers and feet. If using a  finger bath, fill a small bowl with lukewarm water and hand soap, leave your finger on him for 3-4 minutes to remove the cuticle, and gently push back with a round-edged pusher. Always remember that this is a delicate matter, and pressing too hard can cause injury or make the finished manicure look unattractive. It is important only to cut loose skin, not skin that is still attached. This can be living tissue and can lead to microscopic cuts and lacerations, which can lead to infection and nail damage.
Step 4 – Nail Oil & Buff
Oils and buffs, and cuticle oils are great resources for nail health. Dab a small amount on each nail and use a soft buffer to press it into the nail. This step nourishes the nail plate and gives a very smooth finish. When dabbing, don't over-polish your nails. It weakens the surface and bruises the nail.
 Step 5 – Proper Exfoliation
 Exfoliate with a foot file or body/hand scrub. Soak feet for at least 5 minutes before sanding. Always avoid sanding each spot for more than 30 seconds to avoid heat and friction which can cause very painful feet. Calluses that are difficult to remove should be left to a podiatrist or other professional.
 Step 6 – Pedicure Foot Massage
Massage is always the best part of a manicure pedicure. Getting a manicure or pedicure at home doesn't mean you can skip the massage. Find a hand or foot cream and massage your feet or hands for a few minutes. Not only does this feel great, but it also helps to even out your skin tone and make it look healthier and smoother after all the other work is done.
 Step 7 – Final manicure and pedicure
 Get your nails clean and ready to polish. Never apply nail polish to wet or oily nails. Oils in lotions and other cosmetics create a barrier that keeps the polish from drying. What hygiene and hygiene methods should be used for manicures and pedicures? He has three stages: decontamination, hygiene, disinfection, and sterilization. The lowest level is hygiene, which greatly reduces the number of disease-causing microorganisms. This means that all customer contact tools and equipment must be cleaned and sanitized after each use. Hygiene is followed by disinfection. This destroys microbes and most pathogens on inanimate and pre-cleaned surfaces. Sterilization is the complete destruction of all living things on an object or surface. Swapmeet follows all necessary safety measures for all beauty treatments at home.
A detailed guide for Manicure and Pedicure
Most salons adhere to minimum standards and at least sanitize their equipment. By the way, disinfection refers to the use of EPA-registered products that contain the term "disinfectant." This indicates that it is bactericidal, bactericidal, and virucidal, which are all positives for you. Because this is the recommended exposure time for the product to kill bacteria effectively,, must be disinfected for at least 10 minutes. "
Manicures and pedicures are one of the best ways to keep your nails healthy and beautiful. This helps with nail development. Doing these treatments at a professional nail salon from time to time is a must for both men and women. We who use our hands all day in the office and at home need to take proper care of our hands. The same applies to our feet. We put so much pressure on our feet that we must visit a nail boutique at least once a month to relax and pamper ourselves. Nails should be kept clean and dust-free when cooking at home or working with children.
 It is even more important for people who work in the office to keep their nails clean and fresh and to maintain hygiene. When working in the office, you will meet a variety of people and exchange opinions with each other through hand gestures and handshakes. There will be many things. Therefore, it is important that the nails look neat at this point. First impressions are long-lasting, so clean nails or a nail design by a professional nail artist is best. So when we meet new people, our nails don't scare them. Having beautiful nails and toenails helps us a lot, removing dead skin cells and sunburn from our hands and feet.
 Like a manicure, a pedicure can also help relax your feet, the organs most stressed by walking and standing. A nail designer's pedicure at our nail studio is the best way to relax your feet. It also removes sunburn and keeps your feet moisturized and your nails beautiful and healthy. A hassle-free massage by a nail stylist is also provided. This also improves blood circulation and is very relaxing for those wearing heels. A pedicure is the best way to get rid of sore feet. It's better to book a manicure at your local nail salon and get rid of the pain, sunburn, and stress than go to the doctor and take medicine.
 For those of you who think manicures and pedicures are just for special occasions or just a way to pamper yourself, know that manicures not only make your nails look pretty but have several other benefits. It might be interesting to keep it. Regular visits to the best nail salons for manicures and pedicures benefit your overall health and well-being, especially during winter when your skin is dry and needs extra care and maintenance. Regular visits can improve the health of your nails and keep your hands young, as age is clearly visible on the skin of your hands.
A professional manicure includes a thorough cleaning and a good lotion to exfoliate your skin. During the process, all kinds of dirt is removed along with dead skin cells leaving your hands smooth and supple. Wrinkles are less noticeable. Exfoliate with a professional pedicure to remove calluses on the soles of your feet. This makes your feet more attractive and distributes your weight evenly across your feet, reducing leg and back pain after standing for long periods. Easy access to the nearest nail salon for mani-pedis treatments. contagious infection
 Toenail fungus often develops when the feet are exposed to excessive moisture. It usually takes about half a month for the dirt to become noticeable. However, an experienced manicurist can detect parasite contamination in the early stages when it is most effectively treated. A regular pedicure is a great approach to keeping your toes healthy. So look for a nail salon that offers the best pedicures in your area. mental health
 A mani-pedi is a great approach to relaxing and pampering. Different nail salons charge different fees, so save money by choosing your favorite treatment and enjoy professional hand and foot care. You can paint your nails, do gel nail designs, do spa nails, or even opt for UV gel nails after a mani-pedi treatment.
 The physical and psychological benefits of nail treatment are both extraordinary. Your feet and hands will look and feel better, your stress will subside, your pain will go away, and your blood circulation will improve. The entire technique takes much less time, so contact the best nail salons today to set up an appointment.