Christmas manicure is one of the most popular nail art designs and is a great way to celebrate Christmas cheers.
 It is a well-known fact that perfect Christmas manicure is an incredibly difficult task. But over the years, Labelle Nail Boutique would like to recommend some tricks that can help with the most eye-catching and unique design ideas found anywhere in the world! Why should you get Manicure designs for this Christmas? Labelle will present top 5 reasons for Christmas Manicure in this article. We want to share them directly with you to create a truly unique and festive look for this holiday season.
What is Manicure? What are special features of Manicure today?
A typical manicure starts with soaking your hands to soften the skin and cuticles, then buffing to flatten the nails, and then using a file to make sure they are all the same shape and size. The list of manicures on the menu of any treatment today is endless, and choosing the manicure that is right for you is a matter of personal preference. Choose from natural and shiny, tenacious and bold, trendy and fake.
If you like long nails, acrylic nails are a good choice. Here, fake nails are glued to the ends of real nails, then covered with a quick-drying top coat, which usually lasts for a month, after which it needs to be refilled. If you prefer a more natural look but are struggling to keep your nails long without breaking or breaking, then shellac or gel nails are very popular. Colour gel polish is applied directly to natural nails and sealed with UV light. Gel nails dry instantly when placed under light and retain their unbreakable colour for up to two weeks.
Reason 1:  Protect Manicure nails from an unsightly look before Christmas
Regular manicures will help keep your hands in top condition. No matter where you work or what you want to do in your daily life, clean nails and limbs are always an advantage. It removes dead skin cells that can cause problems and looks unsightly.
Your works are at Christmas, so you want to get a new look to be proud of! And manicure removes the painful, loose patches of the skin next to your nails, which are very painful when you try to pull them out. The overall look and feel of your limbs will improve.
          Before Christmas, you should get Manicure for an attractive and beautiful look 
Reason 2: Prevent unhealthy nails for sturdy Christmas Manicure nails
Since your hair and nails have almost the same composition, it makes sense that the weather will affect your nails as well. When your hair is brittle and dry, your nails will also be brittle unless you have your hair cut regularly to prevent this. Some studies suggest that during the winter of, your heart must work a little harder to keep your body warm. It pumps blood to the primary organs and builds up debris on the nails. Therefore, it is up to you to go in the right direction with Manicure. The last thing you want is your precious nails that you can grow all year round. Don't forget to take care of your hands and face to prevent them from the fragile and broken and enjoy the complete Christmas festival.
Reason 3: Christmas manicure designs for the frozen winter
Our skin is the most stressful in winter. Poor limb skin care has the same effect as bad face care. The skin becomes rough, dry and begins to tear. Manicure and pedicure can be astounding by energizing the skin and giving it the necessary boost. In addition, a quick massage of the limbs promotes blood circulation. This is especially important in the cold. It helps keep your nails healthy as well as your skin cells.
One more tip for you here: You can get the best Manicure treatment and hand care from the top-quality Manicure services and the expert nail manicurists at Labelle Nail Boutique for this Christmas to fight the harsh winter in Poway, San Diego.
Manicure nail designs will help you relieve stress and improve your mental and physical health for Christmas
Reason 4: Manicure nail designs for Christmas are an ideal relaxation
We all like to relieve some stress, especially at Christmas occasion. Right? As you see, stress has really a bad influence on our health and life. To be honest, stress doesn't affect the skin of your extremities, but stress makes you feel like the best version of it. Manicure is a great way to unwind and forget the stress outside the spa.
Need something to say to free up space in your diary for this very important "It's my Time". The great thing about manicures is that you can focus on yourself and pamper yourself. The provides comfort not only for your limbs, but also for you.
Reason 5: Possess the stylish Manicure nail designs for Christmas parties
We are surrounded by fashion and new trends! Ads you've seen on television and magazines may have inspired the Christmas costume. You have a plaid dress. Your nails are beautiful and healthy. receipt! Then there is only one thing that is completed and put together. Manicure. At your request, we offer shades to match your planned outfit in your manicure nail designs. Yes, most of us can apply our favourite polish multiple times, but would you like a technician to do this as part of your treatment? Let the help you recreate the look you envisioned with little effort! Hands are very important in everyday life. We imagine how much pressure we will put on them. So why doesn't she take care of her? Are you paying a little attention? It is better to carefully assemble the perfect outfit from head to toe, not just in clothes, but deep into the skin, especially hand skin until Christmas. Christmas is the best of, from soft waxed feet to dyed soles and beautifully tanned leather. Confident, happy and radiant from head to toe.
How to make Christmas Manicure nail designs? Some useful tips:
A glitter design is a perfect decoration for Christmas nails. It is not only decorative, but it also helps you to decorate your nails. You can mix different colours of glitters, like red and green.
Christmas tree pattern The Christmas tree pattern consists of golden silk, star-shaped sequins and crystal drills, and there is also a special Christmas red & gold manicure.
Snowflakes are one of the most famous types of Christmas themes. These designs can be created with nail art or nail stickers. Using both of these techniques makes it easy to create beautiful designs. This type of design adds a little happiness to any event.
Snowflakes-An excellent type of Manicure nail to enjoy Christmas celebration 
Another great design is a polka dot nail polish. You don't have to limit the image to black and white only. Adding a tree with a polka dot base is a great way to have fun. This is a great way to celebrate your holidays. You can choose your favourite design. If you are looking for a simple design, you can choose the classic Christmas tree shape. For more complex designs, you can use a combination of snowflakes, snowmen, Santa Claus, and Christmas stars.
Where to get Manicure near me for Christmas celebration through Poway, San Diego. Labelle Nail Boutique is a prestigious beauty nail salon for most types of clients to get the high-quality Manicure nail designs for Christmas.
Everything is natural and everything is beautiful! Have fun with La Belle's friendly and professional staff. Then you can expect the ultimate beauty enhancement. To do this, we use high-quality natural nail care products that do not contain harmful chemicals. We pride ourselves on providing you with healthy products while creating a fresh look. We also pay attention to cleanliness and always maintain a sterile environment as much as possible. Manicures, pedicures, waxing, eyelash extensions, champagne and other complimentary drinks – we have it all! Relax with us and enjoy the renewal of beauty.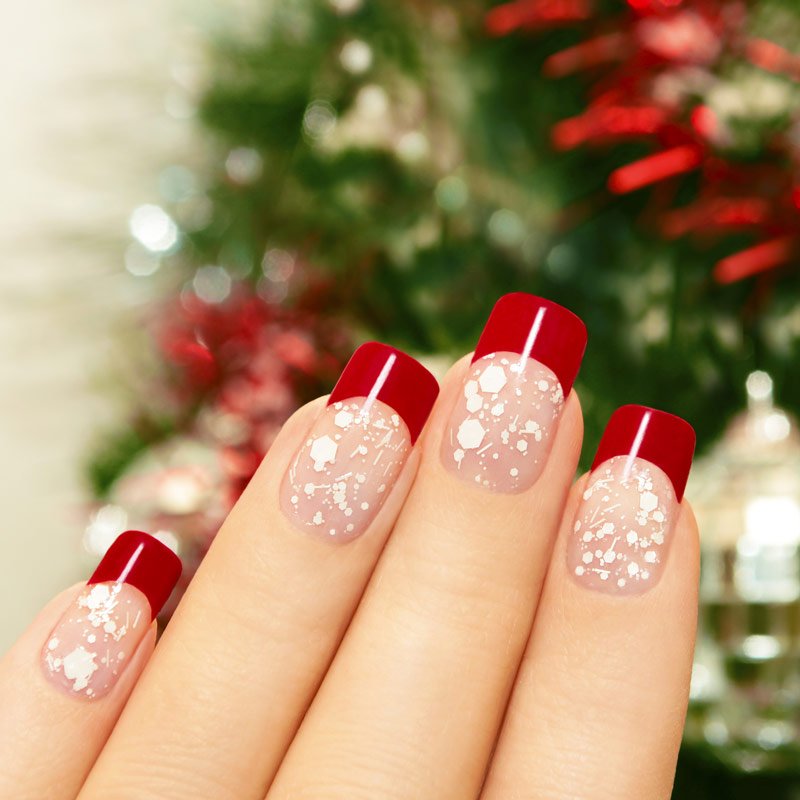 Christmas Manicure ideals will bring out perfect appearance for your fingernails
Nail styling isn't just a way to pamper yourself. It's time to find a sense of community. This is why we treat everyone we visit as a friend, not just a customer. We will take your personal care to the next level using premium quality products and technology. And our welcoming atmosphere will make us the perfect place to meet your weekly beauty needs. LaBelle's goal is to combine luxury with a comfortable, smoke-free environment. We believe in providing completely non-toxic but more responsible and ethical ingredients so you can truly enjoy personal care. We believe that you don't have to sacrifice health for beauty.
Make an appointment with Labelle Nail Boutique, decorate your nails and get ready to celebrate the joys of Christmas!
When we talk about skin care, we usually talk about faces. Normally, people may forget other important parts of the body because it's the face they look at all day long. Your hands (and your nails). We tend to forget how important they are in our daily activities. We use all day long, but don't forget to administer when it comes to your face. Year-round limb care training will make you feel better and more comfortable. Especially, in the severe weather in the winter months, Manicure treatment becomes more important than ever!